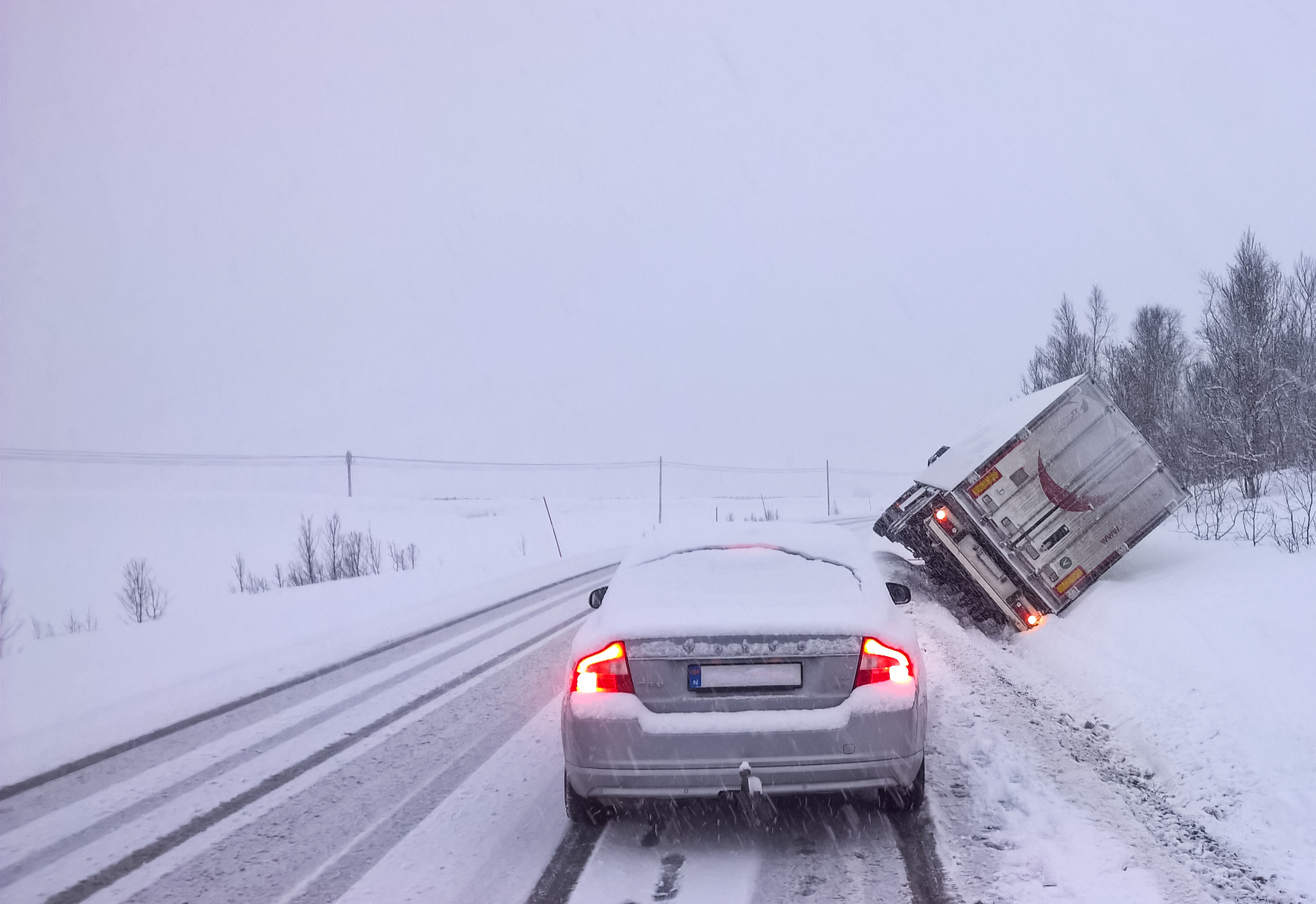 WHAT DOES EASTERN ATLANTIC DO IF I HAVE AN ACCIDENT?
Most truckers are convinced they will be nonrenewed if they have a serious claim.  There are reasons for this belief given the historically large numbers of motor vehicle accidents in recent years.  Many truck underwriters are under pressure as never before and a claim can be a convenient excuse to nonrenew.  However, this is only part of the story.  Eastern Atlantic insures nothing but trucks.  We're not a huge company, so holding onto good accounts at renewal time is as important as writing new ones.  That said, insuring truckers is a high risk business.  While an owner-operator may go years without an accident, small fleets usually take a hit now and then.  Fortunately, most accidents are minor.  As truck specialists, how we handle your policy at renewal  when you have a claim, says a lot about how we do business.  For example:
Our insured driver, in a triaxle dump truck with a load of aggregate, was approaching a two-way intersection.  Our insured had the right-of-way.  At the stop sign to our insured's left was a sedan; to his right was a pick-up truck.  A short distance from the intersection the pick-up truck suddenly pulled out directly in front of our insured's triaxle.  Our driver didn't have time to hit his brake before he T-boned the pick-up.  The pick-up driver was killed instantly.  These facts were confirmed by the driver of the sedan sitting at the stop sign directly across the street.  Our driver reported making eye contact with the deceased pick-up driver just before the crash.  Still, no explanation for his seemingly suicidal decision was ever determined.  Long before the outcome of this claim was clear, we had to decide whether to renew.  Convinced our insured could have done nothing to avoid this tragic accident, we were happy to offer renewal with no increase in the rate.
Every claim is different.  Other considerations also factor into the decision to offer renewal.  An accident that is unexpected and unpreventable will not earn you a nonrenewal notice.
What matters most to us?  Timeliness in reporting accidents, cooperation with our adjusters, lack of frequency of claims and preventability of accidents.
Here is a way to think about your Eastern Atlantic commercial auto insurance that might help reduce the anxiety of reporting an accident:
By paying your premium, you've hired Eastern Atlantic to handle your commercial auto claims.   Let us do our job.  We've been at it for 16 years and have gotten pretty good.
You won't be punished for having an accident you couldn't do anything to prevent.  So hitting a deer, being struck by other vehicles when you have the right-of-way, or accidents due entirely to the weather won't be held against you.*
Always remember your business really is important to us.
To learn more, or to get a quote click Find an Agent.
*(Circumstances of each accident vary considerably.  The types of accidents mentioned are intended as illustrations only.  Actual motor vehicle accidents may include both at-fault and not-at-fault elements. Each is viewed in the context of its own unique circumstances.)